The Tree of Life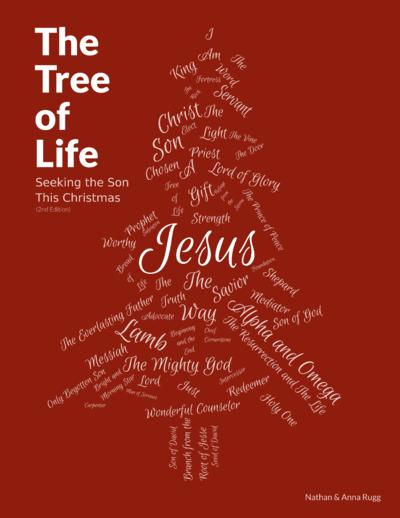 The Tree of Life: Seeking the Son This Christmas is a devotional designed to help the whole family draw close to Christ this Christmas. This Jesse Tree style book traces the roots of Christ through the history of the Bible and explains how we are each supposed to live as branches of the Vine, intimately attached to the Tree of Life, our life source.
This book is divided into thirty-one sections each with a scripture reading, thoughts on how the reading relates to Christ, discussion questions, and suggested hymns and activities. This book is designed to be able to be used by the whole family and includes a variety of levels for the questions and activities.
Printable resources are included at the end of this book. Full color ornaments accompany each day's reading as well as coloring page ornaments so your child(ren) can create their own keepsake set of Jesse Tree ornaments. Decorative printables and printable cards are also included.
Samples
Sample Printables:
Chapters
Day 1: Tree of Jesse
Day 2: The Word
Day 3: The Seed
Day 4: The Ark
Day 5: Abram: Walking by Faith
Day 6: Children of Abraham
Day 7: Jacob's Ladder
Day 8: Joseph's Coat
Day 9: Passover
Day 10: Law
Day 11: Rahab's Scarlet Cord
Day 12: Joshua
Day 13: Kinsman Redeemer
Day 14: Gideon
Day 15: David
Day 16: The Names of Jesus
Day 17: Elijah
Day 18: Jonah
Day 19: Bethlehem
Day 20: His Name is John
Day 21: Heart of Mary
Day 22: Joseph's Tools
Day 23: The Road to Bethlehem
Day 24: Born in a Manger
Day 25: The Angel's Announcement
Day 26: Wise Men Follow the Star
Day 27: John the Baptist in the Wilderness
Day 28: Jesus' Ministry: Loaves and Fish
Day 29: The Cross
Day 30: Empty Grave Because He Is Risen
Day 31: Returning in the Clouds
Details
| | |
| --- | --- |
| Published: | 2014 |
| Print ISBN: | 978-1-5031-6255-6 |
| Print Pages: | 140 |
| PDF Pages: | 180 |