Posted by Nathan Rugg
03/28/2015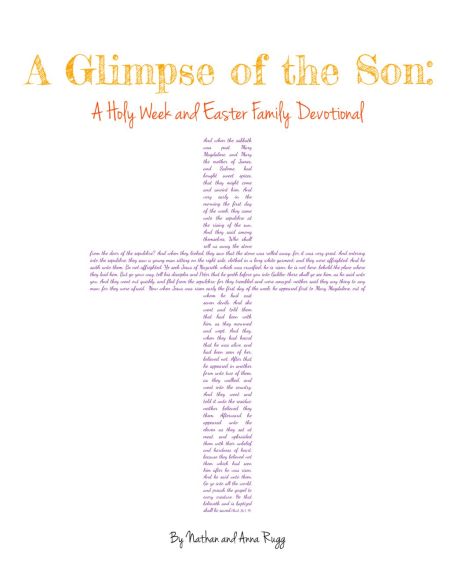 We wanted to give a little Easter present from our family to yours, so we are giving away A Glimpse of the Son: A Holy Week and Easter Family Devotional!
This little devotional covers the final days of Christ's life, death, and resurrection in a way that attempts to involve everyone in the family.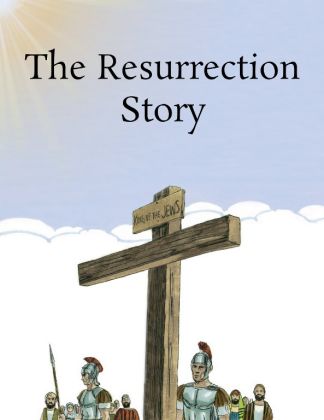 It is divided into 8 sections each with scripture readings, thoughts on the passage, discussion questions, and suggested hymns and activities.
It also includes many free printable resources.
This ebook is a shorter version of our other Easter devotional Rising of the Son which covers the entire season of Lent and Easter, spanning 50 days.
And if you haven't gotten our free Easter readers already, you may want checkout The Resurrection Story early reader series. It's a great way to retell the story of Jesus' death, burial, and resurrection for the whole family.
We hope you and your family have a blessed Easter!
Posted by Nathan Rugg
02/26/2015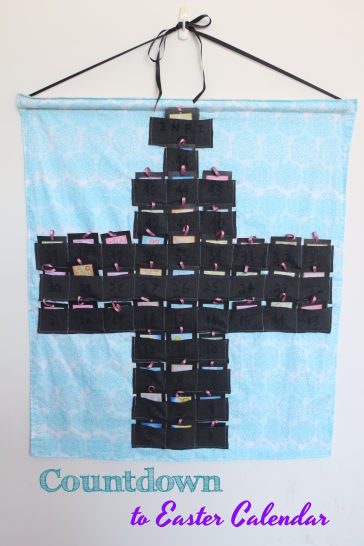 Our family has been enjoying reading the Rising of the Son devotional together, and we wanted to share with you some ways that we are using the printables.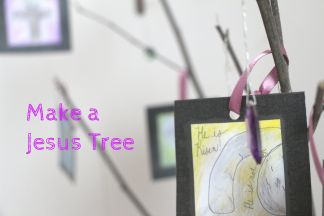 Easter is on a different date each year, and we have found that it can sneak up on you. Sometimes Easter is overlooked, which is sad because it's actually a much more important holiday than Christmas. So we wanted to make a special countdown to Easter to build anticipation.
The Rising of the Son printables includes colored pictures for every day of Lent (and even a few more). With these, we made a countdown calendar in the shape of a cross as well as a decorated Jesse Tree.
You can see these ideas and more at Anna's blog: TheDoItYourselfMom.com.
Posted by Anna Rugg
02/08/2015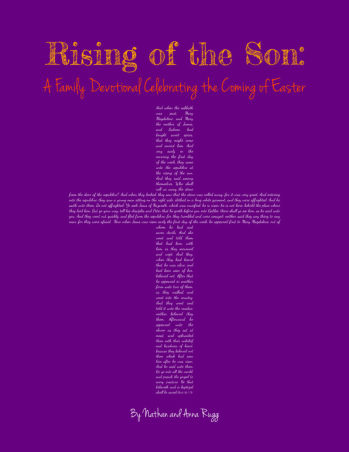 We now have two more Family Devotionals available here at Greenfield Education!
This year, we were able to finish our Rising of the Son: A Family Devotional Celebrating the Coming of Easter. As this book is intended to give you 50 days of family devotions complete with scripture readings, songs, discussion questions, activities, and holiday decorations, it was quite a project with the PDF version totaling 200 pages. We designed it that so that families wishing to celebrate the traditional Lent season (which begins February 18th this year) had resources for every day (and beyond!) and that families wishing to create a shorter countdown to Easter could easily start later or skip days as needed.
To celebrate finishing this big project we decided to give away the PDF of our Growing in Love family devotional for this week as a Valentine's Day gift to you.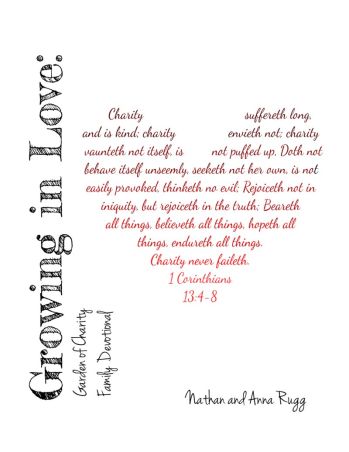 Growing in Love: Garden of Charity Family Devotional looks at what true Agape love really means through scripture readings, songs, discussion questions, activities, and even decorations.
Use the Growing in Love devotional before, during, or after Valentine's day to focus on what true love really looks like during this season when everyone is talking so much about love. Or use it anytime you feel like you or your family need to focus on this important subject.
Our family has found this study to be really helpful in practicing what real love in action looks like.
From now until February 15th, you can get Growing in Love: Garden of Charity Family Devotional free with the coupon code TRUELOVE.
Have a lovely day!
Posted by Nathan Rugg
12/19/2014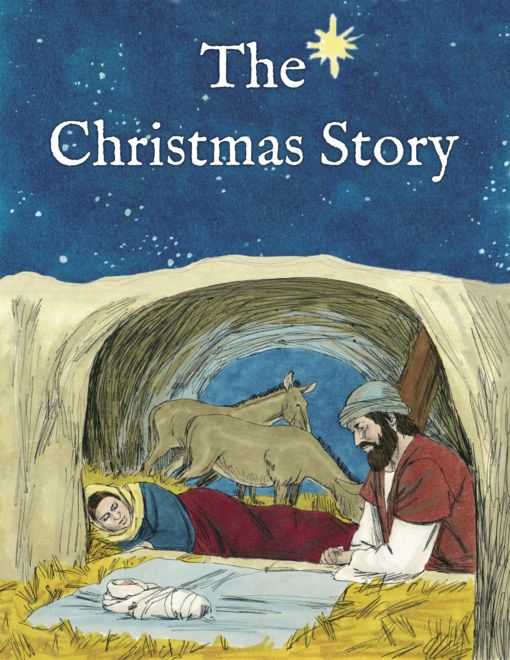 To celebrate the birth of Christ, we wanted to give you all a Christmas gift, and we came up with two ideas. We just finished a two-part Greenfield Reader called The Christmas Story and thought you would like them, so until the end of the year, part one of the Christmas reader will be available for free download. Just use the coupon code CHRISTMASGIFT while checking out.
Also, as a family, we've been enjoying reading our Tree of Life family devotional. We think your family would like it too, so we've decided to give it to you as a gift for free if you buy the full set of the second part of The Christmas Story. The devotional will be automatically included during checkout.
The Christmas Story is a graded reader set that tells the true story of the first Christmas. Together, they contain dozens of quality, hand drawn illustrations and take you through the entire story from Zacharias and Elisabeth to Jesus' narrow escape from king Herod.
We hope you all have a merry Christmas!
Posted by Anna Rugg
11/10/2014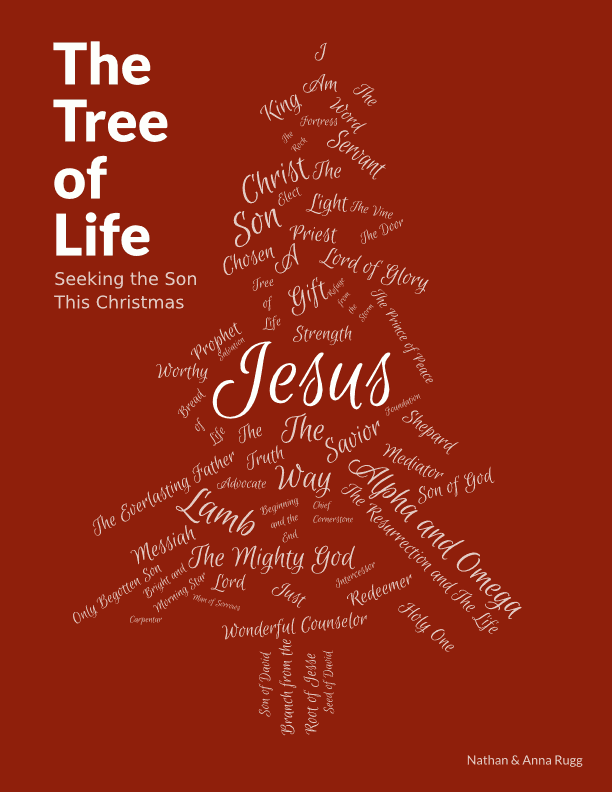 Last year, we began working on a series of Family Devotionals in order to make the holidays more meaningful in our home.
Each book is divided into sections (intend to be one for each day, but obviously you can use them however you like). Each section includes a scripture reading, thoughts on the reading, discussion questions, and one or more hymns to sing.
This year we have updated our books and added even more free printables (for activities, decorations, and greeting cards).
Currently, we have two family devotionals available:
The Thanks Giving Tree: Seeing Blessings Everywhere and
The Tree of Life: Seeking the Son This Christmas.
The Thanks Giving Tree: Seeing Blessings Everywhere is a short devotional book to help the entire family focus on reasons to be thankful during the Thanksgiving season.
It is easy to go through life and miss the blessings all around us. Often we are focused on the things we don't like and wish were different in our lives, rather than thanking God for blessing us abundantly above anything we can ask or think. The Thanks Giving Tree: Seeing Blessings Everywhere helps point the whole family back to God and to see the blessings we have all around us.
The Tree of Life: Seeking the Son This Christmas is a devotional designed to help the whole family draw close to Christ this Christmas. This Jesse Tree style book traces the roots of Christ through the history of the Bible and explains how we are each supposed to live as branches of the Vine, intimately attached to the Tree of Life, our life source.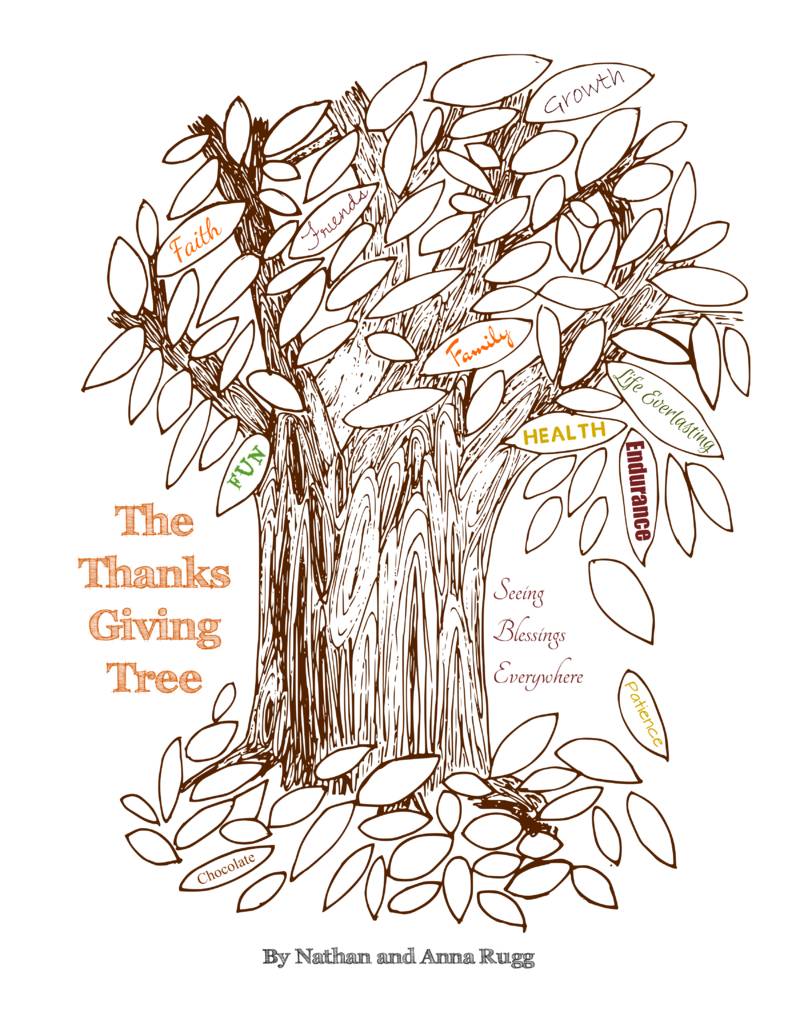 Through the end of November we are going to be giving away The Thanks Giving Tree: Seeing Blessings Everywhere in PDF form as a way to say thanks to you! Use coupon code GIVETHANKS to get our Thanksgiving devotional for free.
If you would rather have Kindle versions, you can purchase The Thanks Giving Tree: Seeing Blessings Everywhere and The Tree of Life: Seeking the Son This Christmas on Amazon instead.
And if anyone out there really wants to use The Tree of Life: Seeking the Son This Christmas devotional and truly can't afford it right now, email us at hello@greenfieldeducation.com and we'll send the PDF to you.
If you want to see pictures of our boys using the Thanks Giving Tree materials from last year, you can check out our post on The Do-It-Yourself Mom.
Thanks for visiting Greenfield Education!
Posted by Anna Rugg
10/13/2014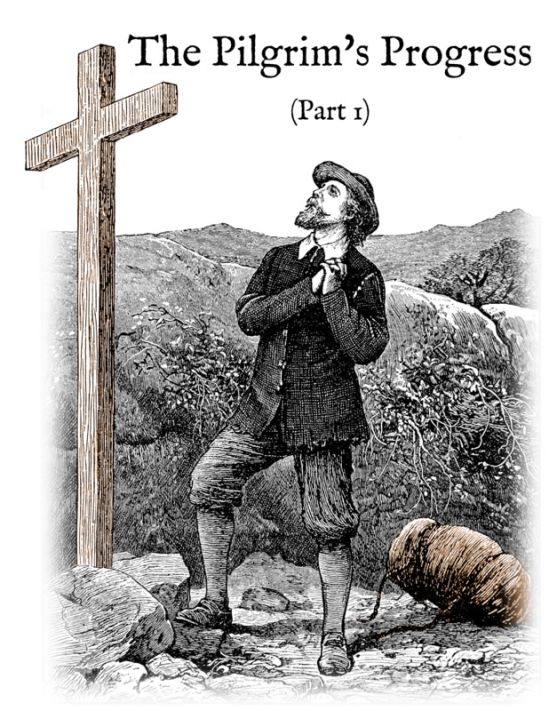 We are pleased to announce our second set of Greenfield Readers!
John Bunyan's classic, The Pilgrim's Progress, is now available in levels 1–4. Now the earliest reader can enjoy a taste of the epic story in single word or phrase bites, and even the most advanced reader can read this classic tale in its entirety still coupled with great illustrations.
Pilgrim's Progress is one of our kids' favorite books. Our oldest son, Aaron, first read it at the age of 5.
Now, some people laugh at the idea of a 5 year-old reading a novel like Pilgrim's Progress, but we know better. You see, Aaron started reading at about 9 months old.
That's right, our kids have learned to read at the same time they learn to talk. Not everyone believes us when we say that. That's why we put together a short video that shows Aaron progressing from reading his first word as a baby to reading novels by five years old.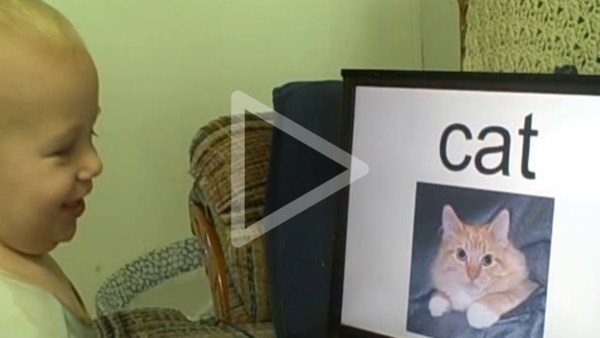 We taught our boys to read using what we now call Greenfield Reading Cards.
We firmly believe that if more kids learned to read at a younger age, the education system would be revolutionized. And we want you and your kids to share in that revolution. We're asking you to have an open mind and consider the idea of teaching babies to read. If you're not familiar with that concept, you might want to read our short Guidebook to Early Reading.
Now we're developing Greenfield Readers to grow with a child's reading ability. As our two older boys quickly began to go from reading single words to more and more complex sentences it became a challenge to find quality reading materials that would gradually increase in difficulty and still be fun and entertaining in the process.
Our easy readers are still twaddle-free, quality literature, and level 4 contains the full, unabridged text of fascinating tales with quality illustrations.
Our younger readers are eager to read what their older brothers are reading, and now all three can read the same book. Our just-turned-two-year-old can read level 1, and he can increase his exposure to new words with level 2. Our 4½-year-old has a pretty easy time reading level 3, but it still is enough of a challenge to keep things interesting. Now the whole family can read essentially the same work.
At Greenfield Education, we want to help kids reach their extraordinary, God-given potential. We have witnessed how learning to read early opens up a whole new world for our curious kids to explore.
We'd love it if you could help us tell others about the potential of early reading. We have some coupon codes for our new reader and for Greenfield Reading Cards. We'd appreciate it if you would share them with others and share this link of the video of Aaron learning to read or just tell someone about Greenfield Education, whether that's via email, Facebook, or even better simply in person. (These codes will expire at the end of the month.)
Here are the coupon codes:
(By the way, you can use more than one code, but only one per checkout.)
You can also get The Pilgrim's Progress in paperback or on kindle at Amazon.
We hope your children enjoy our leveled Greenfield Readers as much as ours do.
What kinds of works would you like to see made into leveled readers?
Classics? Bible stories? Original high quality children's fiction? Something else entirely?
Let us know via email.
Happy reading!